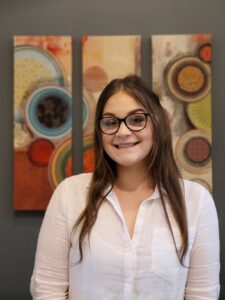 Maya Hossink
Maya Hossink is the Receptionist/Processor for Trust Shield Insurance Group's Schoolcraft office. She joined the company in July 2021.
At the Office
Maya is responsible for answering our phones and greeting customers. Additionally, she handles any mail that the office receives.
Maya's favorite part about her role at Trust Shield is interacting with customers and keeping the office flow organized.
At Home
A native of Vicksburg, Maya is a proud plant mom who resides in Kalamazoo. Although currently pet-free, she used to have a chicken named Penny.
When not at the office, Maya enjoys painting, cooking, camping with her family, and following interior design trends!
At Your Service
Contact Maya Hossink today!
(269) 679-4918