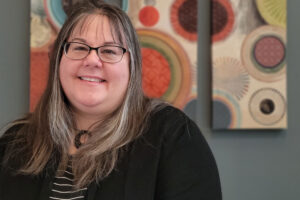 Cyndee Garrod
Cyndee Garrod is a Personal Lines Account Manager at the Schoolcraft location of Trust Shield Insurance Group. She joined our agency in December 2021.
At the Office
In addition to studying at the University of Alaska Fairbanks, Cyndee graduated from Kalamazoo College. She brings more than 25 years of customer service and marketing experience to the Trust Shield team, Cyndee completes quotes and processes policies to keep clients' coverage up-to-date. She enjoys building relationships with clients and helping to identify and fill gaps in coverage.
At Home
Cyndee resides in Paw Paw, with her husband, Paul, son, Brandon, and daughter, Olivia, as well as the family's furry members Pook and Gracie.
She is a parent volunteer with Paw Paw High School's 2PawR Robotics Team and a Team Leader of Christian Education at the Lawrence United Methodist Church.
In her spare time, Cyndee enjoys traveling and photography which, conveniently, pair well with her scrapbooking addiction. She is also an avid DIY-er. After previously living in Alaska, Cyndee misses gazing at the Northern Lights nightly.
At Your Service
Contact Cyndee Garrod today!
(269) 679-4918