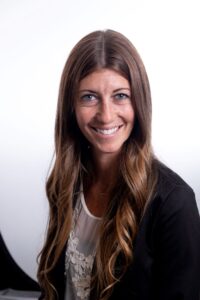 Olivia Paré
Olivia Paré is an Employee Benefits Producer at Trust Shield Insurance Group. She joined the agency in September 2020.
At the Office
Originally from the Grand Rapids area, Olivia attended Grand Valley State University, earning a bachelors degree in Exercise Physiology and Corporate Wellness. She then went on to attend Western Michigan University, earning a master's degree in Exercise Physiology and Holistic Health.
Prior to joining the insurance industry in 2018, Olivia worked for 15 years in corporate wellness. She now strategizes with clients to best fit their employee benefit needs with the goal of helping the company save time and money while providing a great benefit package for their employees.
Olivia enjoys helping clients and their employees to better understand their healthcare coverage.
At Home
Olivia lives in Grand Haven with her boyfriend Eric and their sweet and energic Boarder Collie, Mr. Roper. Olivia, Eric, and Mr. Roper love to adventure together and spend quality time with family.
In her free time, Olivia loves to see the sunrises and catch the sunsets on Lake Michigan. She also enjoys staying active and adventuring to new places (U.S. and other countries)! Olivia is also an outdoorsman with a love of hiking, running, swimming, biking, paddle boarding, boating, cross country skiing, and exploring the National Parks. And recently, Olivia started a book club with friends; that is when she's not cooking, baking, and trying to new recipes.
At Your Service
Contact Olivia Paré today!
(269) 679-4918