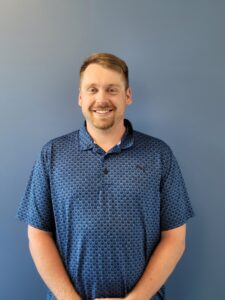 Nathan Campbell
Nathan Campbell is a Producer at Trust Shield Insurance Group's Vicksburg location. He joined the company in January 2022.
At the Office
After graduating Otsego High School, Nathan attended and graduated from the Motorcycle Mechanics Institute. As part of the Trust Shield team, he typically spends his days working with potential clients, in addition to keeping up communication with current clients to make sure they are satisfied with their current coverage.
At Home
Nathan is from Otsego, and now lives in Richland with his girlfriend, Sydney, and their son. They have a bernedoodle named Millie and a lab named Maverick.
In his free time, Nathan enjoys online simulation racing, golfing, collecting memorabilia trading cards, and riding motorcycles– he even used to race motocross and won a local amateur championship!
At Your Service
Contact Nathan today!
(269) 679-4918