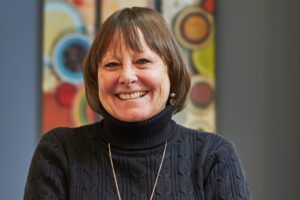 Jo Van Horn
Jo Van Horn is the Personal Lines Team Leader at the Schoolcraft location of Trust Shield Insurance Group. She joined the agency in February 1993.
At the Office
Jo earned a degree from Commercial College Business School in Shreveport, La. and has worked in the insurance industry since 1993.
A part of Trust Shield's origin in 1993 alongside Tom Olvitt, Jo has done it all in her time at the agency. She is currently responsible for maintaining workflow on personal lines and maintaining the management system and computer upgrades for the entire company. Providing excellent customer service is her favorite part of the job!
At Home
A Marcellus resident since 1995, Jo enjoys motorcycling and even rides her own 1979, burgundy Harley Davidson Super Glide.
Her love of motorcycles even extends to the names selected for her two dogs, Fatbob and Panhead.
At Your Service
Contact Jo Van Horn today!
(269) 679-4918