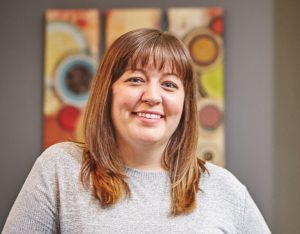 Erin Bauchan-Caprara
Erin Bauchan-Caprara is Commercial Lines Account Manager at the Schoolcraft location of Trust Shield Insurance Group.  She also assists our personal & commercial lines departments with processing, payments and filing . She joined the agency in September 2018.
At the Office
Erin comes to the Trust Shield team with a Bachelors in Geography & General Studies from Western Michigan University.
She enjoys helping clients and having the opportunity to be part of a great team here at Trust Shield.
At Home
Erin grew up in Grand Rapids and currently resides in Kalamazoo with her husband, Chris.  They have two dogs, Molly & Walter and three cats, Paul, Taters & Denise.
Erin has several hobbies that include reading, cooking & biking.  She is an avid birder who is particularly fond of raptors & wetland birds.
At Your Service
Contact Erin today!
(269) 679-4918