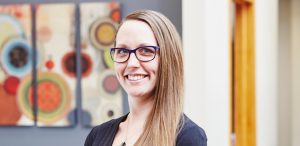 Crystal Scott
Crystal Scott is a Life and Health Agent for Trust Shield Insurance Group. A member of the Vicksburg team, she joined the company in April 2012.
At the Office
In addition to serving as an agent, Crystal also serves as the benefits specialist for Trust Shield. The position was created in 2012. Prior to joining the agency, Crystal worked in the business field for 8 years.
Her daily tasks include meeting with clients, helping them understand insurance coverage, and assisting them in making policy choices. She also spends a lot of time researching in order to present her clients with a wide variety of options and background information.
She enjoys helping people understand life and health insurance, nebulous yet very important parts of their lives.
At Home
Crystal is originally from Portage and a graduate of Portage Central High School. She now lives in Kalamazoo.
Self-described as an introvert, Crystal has a very rare personality type. The INFJ personality type is found in less than 1 percent of the population. To say she is unique is an understatement!
At Your Service
Contact Crystal Scott today!
(269) 679-4918